Tourism
SGP 73rd ANNUAL SYMPOSIUM / SOBLA ANNUAL MEETING "Structural Basis of Electrical Signaling in the Nervous System and Heart"
Recommended Places to visit in Chile
San Pedro de Atacama

https://chile.travel/en/where-to-go/atacama-desert/san-pedro-de-atacama-2/
The narrow streets of this old town are home to the mysticism of ancestral cultures and all the trappings of modern tourism. This unique blend of past and present has made San Pedro one of the most photographed places in specialized journals.
Located 102 km from Calama (the closest city), the land around San Pedro de Atacama is primarily owned by native peoples whose focus is agriculture and tourism. Its old town square features a church (built in 1774) that reveals some of local architectural style: cactus wood details, adobe construction and leather-bound algarrobo beams. Nearby, you'll find the R.P. Gustavo Le Paige Archeological Museum, where you can marvel at mummies and everyday objects that offer a glimpse into the richness of the area's past.
The town is filled with artisanal crafts stands where you can buy knit goods, jewelry and herbs, including coca leaves that can be used to combat altitude sickness on visits to the El Tatio Geysers. You can enjoy a wonderful view of the geothermic field at sunrise from 4,300 meters above sea level. The geysers are one of the area's most popular tourist attractions. On the way back, treat yourself to a relaxing visit to the Puritama Hot Springs. Pure delight.
Heading southeast from San Pedro, you'll come across a number of attractions: the town of Toconao, the Atacama Salt Flat and the Chaxa Lagoon, which is home to flamingoes and other bird species.
A few destinations are best visited at sunset, such as Valle de la Luna and Valle de la Muerte. Both offer gorgeous shadows and shifting colors that make them perfect for photography. You can reach both places from San Pedro by bike.
All of these sites are part of the Los Flamencos National Reserve, whose nearly 74,000 hectares are divided into seven sectors, each of which contains different natural settings. You can explore all of them on guided tours.
San Pedro de Atacama offers a host of pubs and restaurants that will tempt you with their excellent cuisine and bring a day of tours and spectacular sites to a pleasant close.
Come nightfall, there's nothing better than awaiting sleep surrounded by stars and the songs of owls.
---
Easter Island

https://chile.travel/en/where-to-go/islands/easter-island/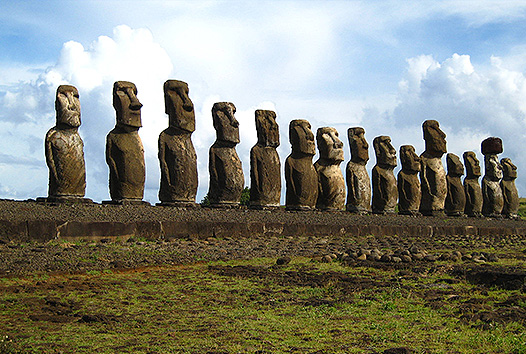 Tepito Ote Henua ("The Center of the World"), as the people who lived there once called it, is the most remote inhabited island on the planet. No other landmass is as isolated, which gives it an aura of mystery.
Easter Island is a National Park and UNESCO World Heritage Site, and it offers something for everyone: pink sand beaches like Ovahe, the heavenly charms of Anakena, volcanoes and grasslands to explore on foot or on horseback, marine life you can discover on diving trips, silent caverns and the Moai statues that bore witness to the rise and fall of a complex and stratified society.
It's estimated that the first inhabitants of Easter Island came from the Marquesas Islands in the 6th century and had no contact with the outside world for more than a thousand years. On Easter Sunday, 1722, this place became known to the Western world thanks to Dutch sailor Jakob Roggeveen, who described the Rapa Nui people as "a subtle culture of beautiful women and kind men."
The island was home to a complex culture that fell into disarray due to food shortages and the tribal warfare that ensued. But its spirit lives on in its people, language, clothing, music, dance, crafts and food. Every February, the people celebrate a return to their roots with Tapati, two weeks of festivities based on ancestral traditions such as body painting, awe-inspiring competitions, song, dance and the selection of their queen.
The island has plenty to offer the rest of the year as well. Its climate is always warm, its tourism and service infrastructure is continually improving, and the tranquility and beauty of its landscapes coupled with the charm of its people will make you want to return.
---
National Park Torres del Paine

https://chile.travel/en/where-to-go/patagonia-2/magallanes-patagonia/torres-del-paine/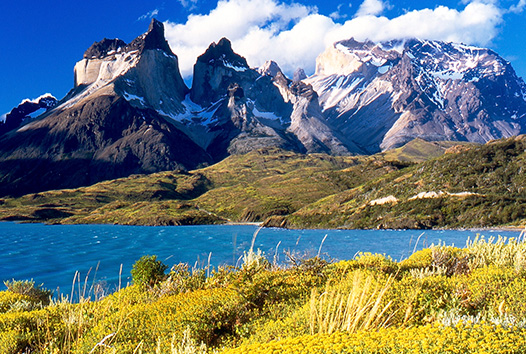 The main attraction of this National Park and Biosphere Reserve is its famous mountains, which you have no doubt seen on hundreds of postcards of Chile. You will be pleasantly surprised by its hiking trails, which will take you through forests and by waterfalls and lakes with fantastic views of the snow capped Campo de Hielo Sur (Southern Ice Field).
Enjoy the 17 hours of daylight in summer, and do not miss the sunrise, when the horns of the Torres del Paine Massif turn purple and then red. Take a boat trip on Lake Grey to the glacier of the same name or paddle a kayak among enormous blue and white icebergs.
While the most spectacular views will require a bit of effort, anyone can enjoy the park's main landmarks by driving around. It is home to 97 km of roads that wind through stunning landscapes that range from Patagonian steppe to forest. This is the perfect place to combine short hikes with a good rest. You can choose from five-star hotels and excellent lodges as well as very comfortable campsites. You can even try "glamping," an option that involves camping with all the comforts and details of a good hotel.
Another one of the park's attractions is the chance to photograph native fauna. The animals are not afraid of humans, so you can get close enough to take photos of guanacos, ñandúes, foxes, huemuls and, with a lot of luck, pumas.
---
Puerto Varas

https://chile.travel/en/where-to-go/patagonia-2/rivers-and-lakes-patagonia/puerto-varas-2/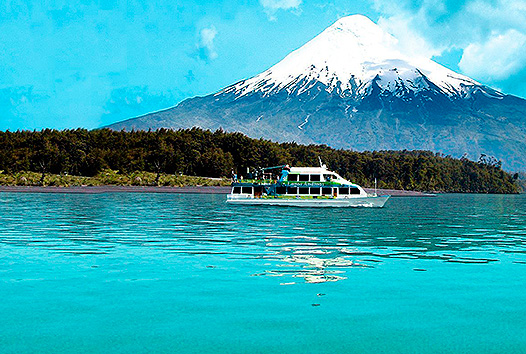 Situated just 21 km from Puerto Montt on the shores of Lake Llanquihue, Puerto Varas is known as "the city of roses" for its many flower-lined streets. The best way to see the town is to walk from one end to the other and observe their unmistakable German-inspired architecture, modern residential developments and beautiful gardens. One of the highlights is the colorful and impressive Iglesia del Sagrado Corazón de Jesús, which was founded in 1853 by the German and Swiss colonists who came to populate the south of Chile.
Picturesque and well-equipped, Puerto Varas awaits you with boutique hotels, lodges and charming inns. The city also has a casino and a wide variety of eateries. Don't miss the locally-made beer, meat dishes and "lomito" (sliced pork) sandwich, a Chilean favorite. If shopping is on your list, head to the shops for handicrafts, woven items, gourmet products and handmade chocolates. Later, enjoy the night life in the city's bars, pubs and casino.
The best view of Puerto Varas is from the waterfront, where you can admire the vista of the Osorno and Calbuco Volcanoes, which serve as a backdrop to the dark blue crystalline waters of Lake Llanquihue, which are mirror-like in the morning.
If outdoor sports are your passion, this nature lover's paradise won't disappoint. The region offers the perfect settings for kayaking, fishing, climbing and trekking. You can even ski at the Antillanca Resort. If beaches are more your style, Niklitschek has good amenities and camping. A trip to Philippi Park will help you connect with the beautiful local flora, and you can hike to the peak of Cerro Philipi to the huge cross that is lit up at night.
Don't forget to visit the amazing Saltos del Petrohué waterfalls, and a little further on, the emerald-colored Lake Todos Los Santos, set amidst steep hillside forests lush with vegetation.
---
Valle del Elqui

https://chile.travel/en/where-to-go/atacama-desert/la-serena-and-coquimbo/valle-del-elqui-2/

The Elqui River runs some 140 km to the beaches of La Serena, passing through hills laden with vineyards and towns that have made blending agriculture and tourism a local tradition. This is Valle del Elqui (Elqui Valley), one of the country's most popular tourist destinations and the perfect destination for those looking to connect with nature and enjoy a different kind of vacation experience.
Take a paved road east from La Serena (62 km) to the tranquil city of Vicuña, which is best known as the birthplace of Nobel Prize-winning poet Gabriela Mistral. From here, you can venture further into the valley and visit Monte Grande, the town where Mistral spent her childhood. It is still home to her school, her home and her gravesite.
There are many ways to experience this destination, and a visit to the pisco plants is a good place to start. Tours offer a great opportunity to learn about the production process, taste this grape distillate and shop.
Towns like Algarobillo, El Tambo, Peralillo, El Molle and San Isidro offer a relaxed atmosphere, plenty of vineyards and orchards, adobe architecture and beautiful churches.
If you're a fan of adventure sports, try the local trekking routes, horseback riding excursions and paths for bike and Jeep tours.
Vicuña and Pisco Elqui are surrounded by vineyards and have excellent restaurants and "picadas" (small local restuarants) which serve everything from roasted goat to organic cuisine. Ask the locals for recommendations, especially when it comes to marmalades, empanadas, pan amasado (kneaded bread) and manjar.
Valle del Elqui has attracted a number of people who are looking to live far from the hectic pace of city life. Given that this place is a source of healing energies, it's easy to find accommodations that offer alternative therapies, including reiki, meditation and massages. The beautiful landscapes of the nearby Cochiguaz Valley are home to a center that focuses on mysticism and alternative therapies.
To complete this journey of the senses, visit the Mamalluca Astronomy Center. The pure Valle del Elqui air allows for some spectacular stargazing opportunities.